Posted on May 12, 2013 by Derek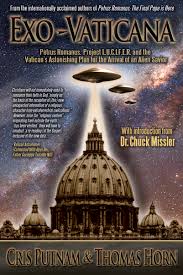 WHY IS the world's largest Christian denomination — and world's largest bureaucracy — so interested in the possibility of extraterrestrial life?  (And why did the Vatican name its astronomical observatory LUCIFER — an acronym for the lengthy and rather contrived title Large Binocular Telescope Near-infrared Utility with Camera and Integral Field Unit for Extragalactic Research?)
Cris Putnam discusses the new book he's co-authored with Tom Horn, Exo-Vaticana: Petrus Romanus, Project LUCIFER, and the Vatican's astonishing exo-theological plan for the arrival of an alien savior.  He talks about the theological, cultural, and political implications of an ET messiah, and why the Roman Catholic Church apparently wants to get out in front of that particular parade.
Sharon and Derek Gilbert will be at the sold-out Pikes Peak Prophecy Summit July 26-28, 2013 with Gary Stearman, Tom Horn, Chuck Missler, L.A. Marzulli, Joseph Farah, Dr. Stan Monteith, Cris Putnam, and many more.  Get information here.
Here is the link to the interview with  Rev. Ray Boeche on the FutureQuake program that Cris mentioned during the show. (Note: Link opens mp3 audio file.)
Please join the discussion at the PID Radio Cafe, visit the VFTB Facebook page and check out the great Christian podcasters at the Revelations Radio Network.
Podcast: Play in new window | Download